My colleagues and I just got back from TM Forum's Data Transformation World (DTW) 2023  in Copenhagen. This was our second year attending and definitely won't be our last!
Unlike Mobile World Congress (MWC), which is amazing but can sometimes feel overwhelming, DTW operates on a much more human scale. This year, we had a better meeting room, complete with copious supplies of sugar- and caffeine-filled beverages, which helped enormously. Things were also noticeably busier than last year, with finding scheduling slots in our meeting room becoming a real challenge at points.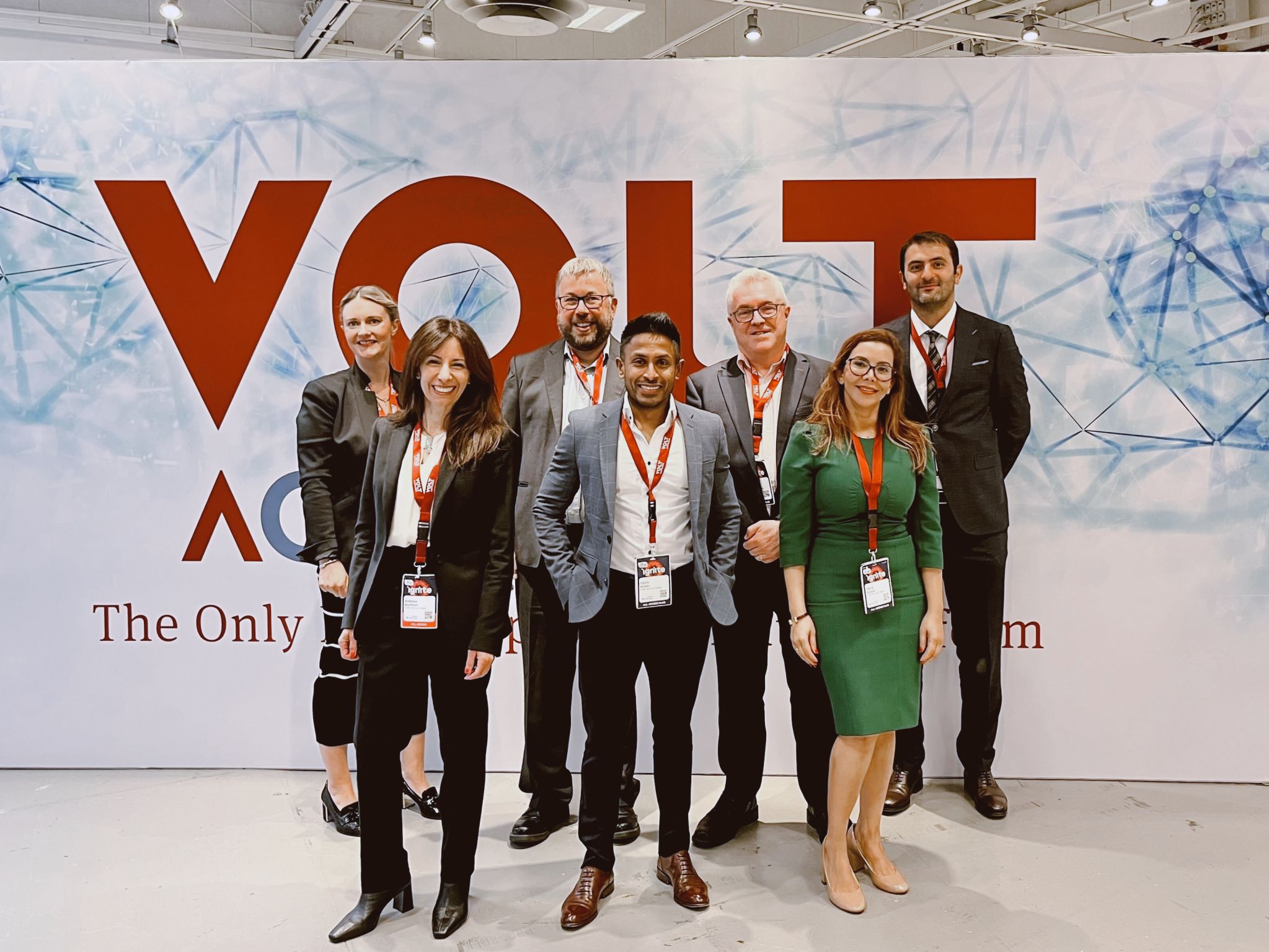 The Volt DTW team. (From left, starting with back row) Jennifer Brunsden (Global Sales Director), Andrew Keene (Senior Director of Product Management), David Rolfe (Head of Product Marketing), Gurban Adigozalov (Pre-Sales Engineer), Andrea Burnham (Sales Director), Yeshi Reddy (Account Manager), and Dikra Rosado (VP of Sales).
Major Trends
This is an interesting time to be in tech, as many trends are entering the point in their lifecycle where the challenges become apparent and plausible end states and/or real-world results become tangible.
For example, while 5G has failed to deliver the flying augmented reality brain surgery drones we were all promised, it's now helping to provide Fixed Wireless Access to communities all over the world.
But 5G feels almost old hat now — or maybe "standard" is a better word. And 6G is already nipping at our heels anyway. 
There were the three hottest topics at DTW this year: 
1. AI At Scale
AI has reached the stage where people are now trying to understand how to commercially deploy it at scale. This is something we anticipated a couple of years ago, as everybody was fixated on the creation of elaborate models and paying remarkably little attention to how to use them in the field commercially, and most importantly, profitably. 
The jury is still out on the latter, as a lot of real-world AI use cases are optimizations that shave a percentage point here or there and are thus dependent on the economics and TCO of the AI subsystem making the whole exercise worthwhile. Some AI is also vulnerable to legislation requiring companies to be able to explain their choices in plain English, which can be hard when the underlying AI model doesn't know why it's giving answers.
That said, with the right data platform, anything is possible with monetizing AI and Ml. 
2. Telco to Techco
Another interesting trend was "Telco to Techco" — the idea of telco operators desiring to transition into technology companies to embrace new revenue-generating opportunities. 
While I understand the idea behind this, it won't be an easy transition. I've worked for both (telcos and techcos), and it's not just the drastic cultural differences that come to mind; the public has a very clear idea of how a telco company should and should not behave. If telcos adopt a public "move fast and break things" persona, they run the risk of alienating the consumers they serve, who value their being predictable, consistent, and, well, boring. 
This isn't to say that drastic reform isn't needed inside your local Tier 1 or 2 telco, but the ultimate goal should be to merge the 'positive DNA' of both the telco and the techco and not accidentally merge the negative stuff. Industry veterans reading this can no doubt remember multiple initiatives based on good ideas that were taken to a damaging extreme or used to prop up this quarter's profits and harmed the next decade. 
3. Cloud migration
Another theme was the migration of workloads to clouds, and how much of a telco's workloads would actually move to the public cloud. The sentiment across the CSPs presenting at DTW was that while IT functions will ultimately move to public clouds, core network functions or anything in the control plane will move to private clouds. These workloads will become cloud native — to private clouds. This is consistent with what we've picked up from the marketplace over the last 18 months.
Conclusion
Like last year, we found DTW to be more productive on an hour-for-hour and euro-for-euro basis than many of the other events we attend. Its real value lies in the sheer density of face-to-face meetings it enables and the connections it forms through this face time. My colleagues and I look forward to attending next year.