By relegating the finer details of infrastructure to the cloud, the software architect has taken on challenges of a higher order. The limitless infrastructure and the ever-presence of applications are making solutions feasible that we had not dreamed about a few years before. And now, the architect must dream about them and, even transform such dreams into reality.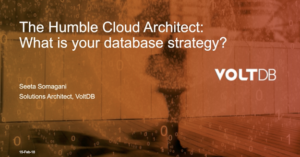 The disruption of the traditional database gave us deliverance from the monoliths, and blew open the architectures and philosophies to consider before deciding where to put our data. We invite you to explore these critical challenges in choosing the database and architecture for deployment in the cloud.
Summary
In this webinar, we take a look at some of the key considerations before deploying a cloud database and cover a number of topics, including:
Scalability – how scalable do you really need your database to be?
Deployment – what are some of the options and tools that are out there?
Choice – what factors should guide the choice of the database?
Speaker:
Seeta Somagani, Solutions Architect; Volt Active Data