IoT data management platforms must manage both data in motion (fast data) and data at rest (big data). As things generate information, the data needs to processed by applications. Those applications must combine patterns, thresholds, plans, metrics, and more from analytics run against collected (big) data with the current state and readings of the things (fast).  From this combination, they need to have some side effect.
Must Read: Streaming System
That's the part of IoT – and modern data management in general – that isn't discussed enough: the side effects. All the analytics, all the petabytes, all the packets – all that work is done only so we can build an application that affects someone, something, someplace.
IoT platforms have a bidirectional problem: they need to take insights gained from analytics – the side effects – and use those predictively and prescriptively. And they need to capture the new incoming events and correlate, sessionize, enrich, and freeze and export them into the data lake.
Consequently, the management of data in motion leads to several requirements:
The ability to scale to ingest high velocity data streams.
The ability to process discrete events in combination with current state to cause an effect – an action.
The ability to capture, enrich, and freeze new data into long term analytic repositories.
These are the requirements our IoT customers address when they select Volt Active Data. They use Volt Active Data's scale-out performance to process tens of thousands to millions of events per second. They use Volt Active Data's transactional capabilities to take operational actions on each new event processed. They use its relational database features to manage master detail data, last known device state and dimension data about things in a unified real-time message database. And they use our sophisticated export capabilities to capture and process data in motion into data at rest.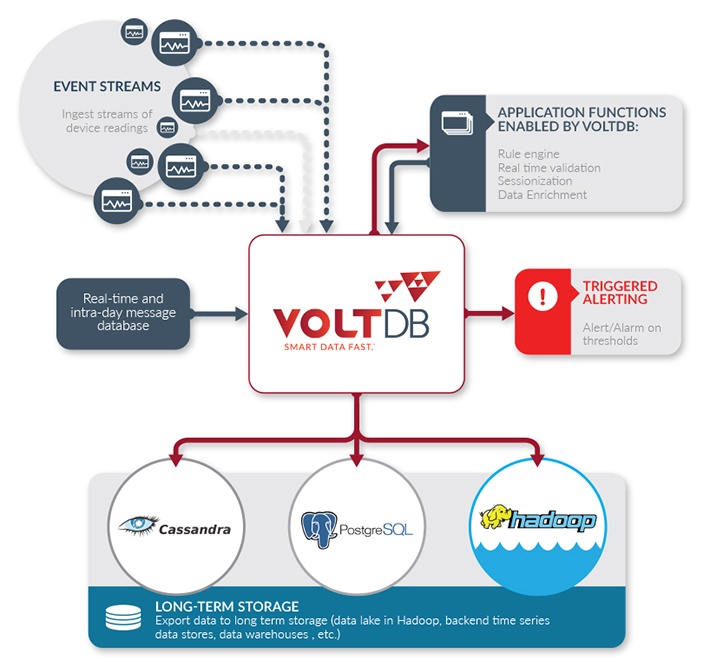 We've been talking about these capabilities recently in the context of active Volt Active Data deployments. Learn more about the role of an operational database in an IoT platform from our recent webinar, Understanding the Operational Database Infrastructure for IoT and Fast Data.