Strategize and Plan for Fast Data Success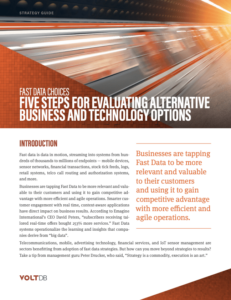 Businesses are tapping Fast Data to be more relevant and valuable to their customers and using it to gain competitive advantage with more efficient and agile operations. Smarter customer engagement with real time, context-aware applications have direct impact on business results.
This 5-step Guide to Fast Data Choices for success will introduce you to fast data strategies at a practical level and provide you with a roadmap to rapid execution and implementation. Here are the 5 steps we will walk through:
Identify your fast data opportunity
Assess and leverage your existing infrastructure
Understand the (business implications of) alternatives
Get agreement on success criteria for project
Prototype, pilot, refine
Download your copy of this strategy guide now!