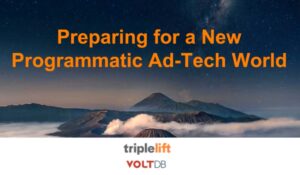 The ad-tech world is moving fast, driven by trends like real-time native programmatic advertising, header bidding, and changes to the tech and marketing ecosystem. The advent of real-time native programmatic advertising is forcing agencies and marketers to reconsider investments in technology – and adapt to the demands of speed, scale and accuracy in their ad buying processes.
Capturing and using data throughout the ad buying and delivery process is key to success. Understanding spend pacing and buying insights in real-time can enable ad-tech companies to react at the speed of an ad-tech data interaction – less than 200 milliseconds.
Learn More!
To learn more about the challenges and opportunities in the ad-tech space today, we invited the experts at TripleLift to get their perspective on the subject and to hear how they've become a market leader in real-time native programmatic advertising. View this presentation today and gain more insight into topics, including:
Why ad-tech providers need speed, scale and accuracy – now
The opportunities – and risks – of header bidding
Problems with open source technology stacks built on Storm, Spark and Cassandra
How to succeed in the real-time native programmatic advertising world
Speakers
Michael Harroun, Head of Backend Engineering, TripleLift
Jared Skolnick, Head of Publisher Marketing, TripleLift
Joe Kelly, AdTech Solutions, Volt Active Data
Dennis Duckworth, Senior Director of Product Marketing, Volt Active Data
Reach Out!
Let us know if you have questions or want to discuss how we might help your company. Contact us!