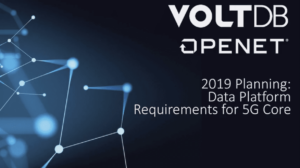 5G Core redefines how data is represented, collected, stored and used. The main points that are going to influence the data processing needs are:
Consolidation of data layers to store both structured data and unstructured data
REST API based interface for service composition
Software enabled and virtualized network functions
Request/Response model of interaction
Subscribe/Notify model of interaction
Cloud native, container compatibility
Security – policy-based and role-based
These requirements need a data platform that goes beyond the simple data storage needs.
5G Core requires a platform that can ingest event data, store for querying, process for decision making, send out notifications conditionally (anomalous behavior, network load distribution, policy enforcement, billing and accounting) and integrate with machine learning technologies to leverage insights generated to make the decision-making increasingly more intelligent.
In this webinar, experts from Volt Active Data and Openet dig deep into the data requirements of 5G Core and how you can address them going into 2019 and beyond.
Speakers:
Seeta Somagani, Solutions Architect, Volt Active Data
Derek Hosty, GM Cloud and Data Solutions, Openet