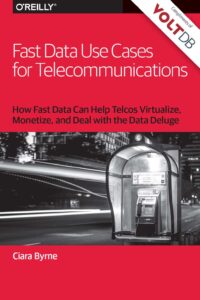 Big data is data at rest. Fast data is data in motion: a relentless stream of events generated by humans and machines that must be analyzed and acted upon in real time. Fast data applications must ingest vast amounts of streaming data while maintaining real-time analytics and making instant decisions on the live data stream.
For telcos, a fast data application might enforce policies, make personalized real-time offers to subscribers, allocate network resources, or order predictive maintenance based on Internet of Things (IoT) sensor data. Volt Active Data's in-memory, NewSQL database has become popular with telcos for its ability to handle the speed and scale of fast data.
This ebook reflects the experiences of Volt Active Data engineers and customers who have deployed multiple telco fast data use cases.
Download to learn:
Why telcos need fast data
4 functions of a fast data system
Building a fast data stack for telco
Technical characteristics of various telco-specific fast data use cases
Examples of real-life deployments