Last month we hosted our webinar, "Is Your 5G Data Architecture Ready for Microservices?", hosted in conjunction with FierceWireless. It was a unique webinar in which Volt Active Data's Chief Technologist, Dheeraj Remella had a roundtable discussion with Iain Gillott, Founder and President, iGR about a variety of topics related to 5G and how to prepare your architecture for the coming changes this new network will bring.
We received an outpouring of questions from attendees throughout the webinar and we will highlight some of the most pressing inquiries as part of a blog series. This is part two of the series, in which Dheeraj and Iain discuss their thoughts on 5G being a benefit for the consumer subscriber or an enterprise? You may view the webinar in its entirety on-demand here.
Editor's Note: Unless otherwise noted, the question is coming from a webinar attendee via our chat functionality during the session. These answers have been edited for clarity and grammar.
Q: Is 5G a Benefit for the Consumer Subscriber or an Enterprise?
Dheeraj Remella: You read news every single day, right? There's 5G for everyone and then there's [5G] already deployed in a few cities. But if you follow-up on those news articles and [ask], "What is the consumer sentiment around the kind of service that they're receiving?", how do I put it?
Let me just say it's not encouraging for the near future, – for the very near future at least – because while the text was successful, there are still physics-based challenges for enabling a proper 5G high-speed as been expected. If you look at 5G promises, [it's] a lot of 10Gbps and all of a sudden people are just salivating at it and like, "Oh my God, I can watch all the cat videos really, really fast." But when you look at the highest speed that has been promised, it requires a higher frequency signaling. If you have higher frequency signaling, then there is a natural problem that it cannot penetrate through surfaces such as walls, windows, and probably even raindrops sometimes.
From that standpoint, I personally think that the industrial [applications] and the enterprise are going to see an adoption of 5G architecture and technology a little bit faster than consumers. When you look at an enterprise, you can actually have a clean room environment where you can control the elements that are in play and be able to have your antenna talk to each other much better than actually having it out on the street, trying to penetrate a moving car with its signal. So, that's my thoughts.
Iain Gillot: Actually, I want to go back to my original slide, my first slide here.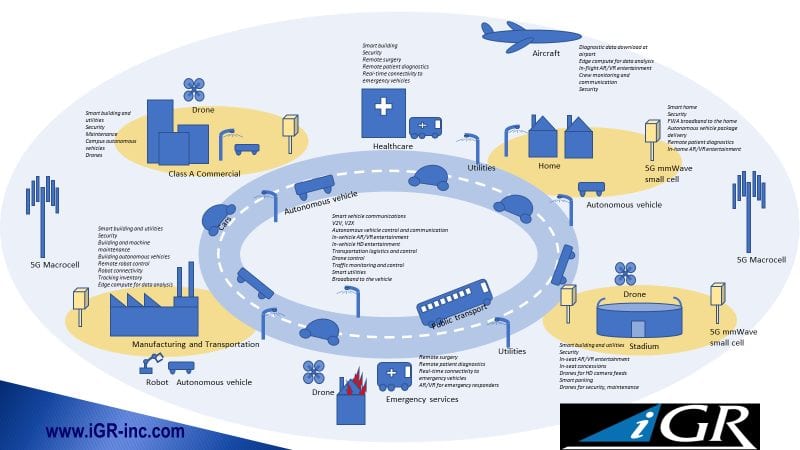 So, on what you're saying, and I'd agree with, is the yellow areas on here. It would be those initial 5G deployments. Smaller areas could be a shopping mall. It could be outside the movie theater. As you said industrial application, it could be a football stadium, those types of things, and obviously downtown business areas. With the blue area really initially, it's still being provided by LTE. So, your macro coverage is LTE, but you have these pockets of 5G service. There surely are a lot of enterprises looking at that. There's a lot of activity right now around that.
Stay tuned for Part 3 of this blog series in which Dheeraj and Iain will discuss questions surrounding 5G latency.