2017 was a breakout year for mobile gaming. Even though games only accounted for 40% of the total mobile app downloads for 2017, a total of 80% of app spending in 2017 was generated by mobile games. Mobile game spending even out performed PC gaming by 2.3x AND console gaming by 3.6x last year (Note: Data and graph from IDC Gaming Spotlight 2017). While these numbers suggest a gold rush for mobile developers, things are not as profitable as they may seem.

Unequal Success
This explosive growth in mobile gaming means that average revenue per paying user (ARPPU) is growing year over year. However, the top performing games, such as Candy Crush, are taking the largest piece of the pie. From January through September 2017, the top 16% of mobile games have increased ARPPU by $15/user, totalling an overall ARPPU of $50 — which is impressive success. However, there is a significant gap between these top performing games and the average games that are stuck at an ARPPU of $7 (a gap of around $43). And not only are average performing games seeing minimal growth overall, but the gap is worsening, not improving. (Note: Data is from the GameAnalytics 2016-2017 Mobile Gaming Benchmarks).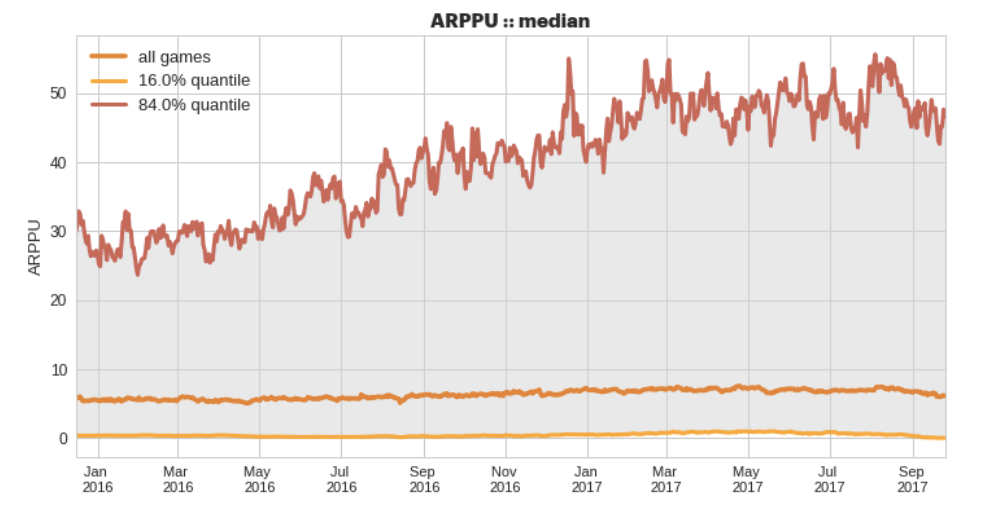 So it's no surprise that retention rates are showing a similar story. According to Gamasutra, strong retention benchmarks should be a least 15% for day 7 (D7) retention. However, the data is showing that even the most successful games are struggling to meet these percentages, as the top 16% of games still seem to fall short at 12%. And for the majority of games, this proves to be even more challenging; with retention rates hovering around 4%, they more closely resemble the poorest performing games than the top 16%.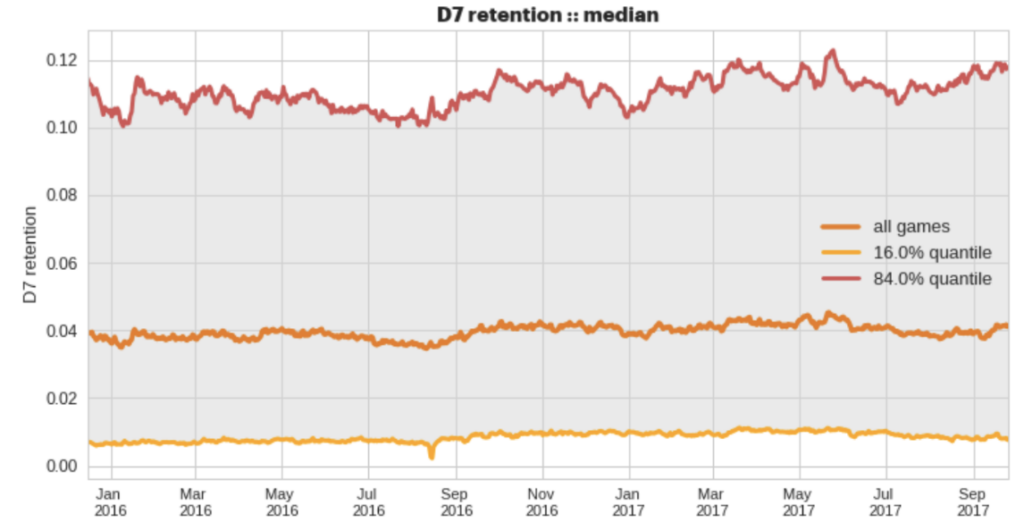 Monetization Strategies and Their Limits
Regardless of how successful a game is, there are a number of common monetization strategies that are familiar and implemented by most gaming companies. The most obvious approach is to get more users — to do that, companies are increasing their UA spend with the thought being that more users will drive more money. However, with a cost per install (CPI) of $2 for iOS, an ARPU of $0.95 isn't going to cut it. Even though paid UA is seeing 4x the success of organic UA, the average game is still only generating half of their CPI back in the first month of play.

In order to not only see a positive ROI for UA spend, but also generate revenue on top of that, companies taking this approach will need to maintain competitive retention rates for D30 and on. But with dismal D7 retention rates, the average game can't survive on this strategy alone.
Many teams have also leveraged more data-driven monetization strategies. Examples of these typically focus on players with the highest LTV to drive revenue through more targeted ads and paid premium offers. However, these strategies also rely heavily on successful retention rates; if a player never comes back, they'll never spend. And with D1 retention rates struggling to get past 50%, that's a significant amount of opportunity lost.
Beating Retention Loss
If you could use the data that you already have to drive retention rates instead, you'd be able to create new opportunities for monetization (rather than focusing on strategies that are compensating for low retention rates). But you'll need to act quickly: an average game's session length is only around 5 minutes, so in-game decisions need to be made faster than ever before.
To successfully achieve this, you'd need to be able to take in data on a per player basis, analyze the information, apply any existing context that you have on the player, and make a decision on which next best action will be most successful — and you need to do all of this while that player is still engaged.
Why?
By positively influencing players at the right moment and within their current session, you can create a more personalized experience on a per player basis that will increase engagement and drive long-term retention. An example that we've seen our customers implement with adaptive gameplay, is being able to fine-tune difficulty on a per player basis. This ensures that each session has the optimal balance of success — not boring and challenging but not frustrating.
This capability is also being applied to in-app offers, where not only is the timing important, but so is providing the RIGHT offer. Repetitive and irrelevant offers can negatively impact UX (especially for first time users) and are often ignored. However, an offer that is presented when the player has the greatest motivation to buy — like when a player is stuck on a level or has failed a number of times in a row — will have a greater acceptance rate. And players at that point in play will be more willing to do things like watch an ad to gain a competitive advantage.
Leveling-Up Your Monetization Strategy
By being able to make complex real-time decisions in your game, you'll also gain a competitive advantage. Our customers have seen direct increases in their top-line earnings by implementing Volt Active Data. They've also proven that contextual offers that are presented in real-time (milliseconds) have a higher acceptance rate than when compared to offers that are delayed or presented at the next session – and in some cases this was as high as 257% more.
Not only was King able to boost in-game purchases by 30% by leveraging Volt Active Data, they've also seen 7 quarters of consistent growth in gross bookings per user. Moreso, their average session has increased to 35 min/day – which is up month-to-month and year-to-year.
So if you want to do better than average, or if your goal is to be in the top 16% of games, you need to consider strategies like these that have proved to be competitive differentiators for our customers. To learn about how to level-up your conversion rates, catch us at GDC.