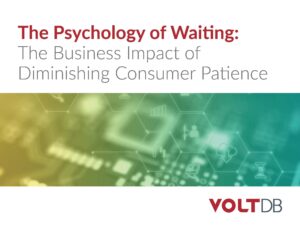 In today's hyper-connected, on-demand, digital world, consumers expect immediate satisfaction and access to the services they require. The ability to deliver on these services in real-time requires an increasing amount of speed, relevancy and timeliness to cut through the noise of options and gain allegiance with consumers. The ability to satisfy these real-time needs will be what separates leading companies from the rest in the ongoing quest for customer loyalty.
Survey & Report Details
To determine just how critical real-time services are for today's consumers, Volt Active Data teamed with research firm, Vanson Bourne, to conduct an independent study on 2,000 individuals to assess the business impact of real-time experiences. In this report, we highlight those findings and cover topics, including:
Consumer expectations and patience for certain actions that are dependent on accurate and consistent real-time analysis.
The psychological need for immediacy across generations and industries like gaming, financial services, AdTech and telecommunications.
Emotional reactions of consumers when tasks take longer than anticipated.
And more!
Get the Survey Report Now!
Learn how to regain revenue and strengthen your brand!